Looks like this event has already ended.
Check out upcoming events by this organizer, or organize your very own event.
FOURTH ANNUAL DIVERSITY SUMMIT

Tuesday, October 9, 2012 from 7:30 AM to 4:30 PM (PDT)

Hanover, PA
Event Details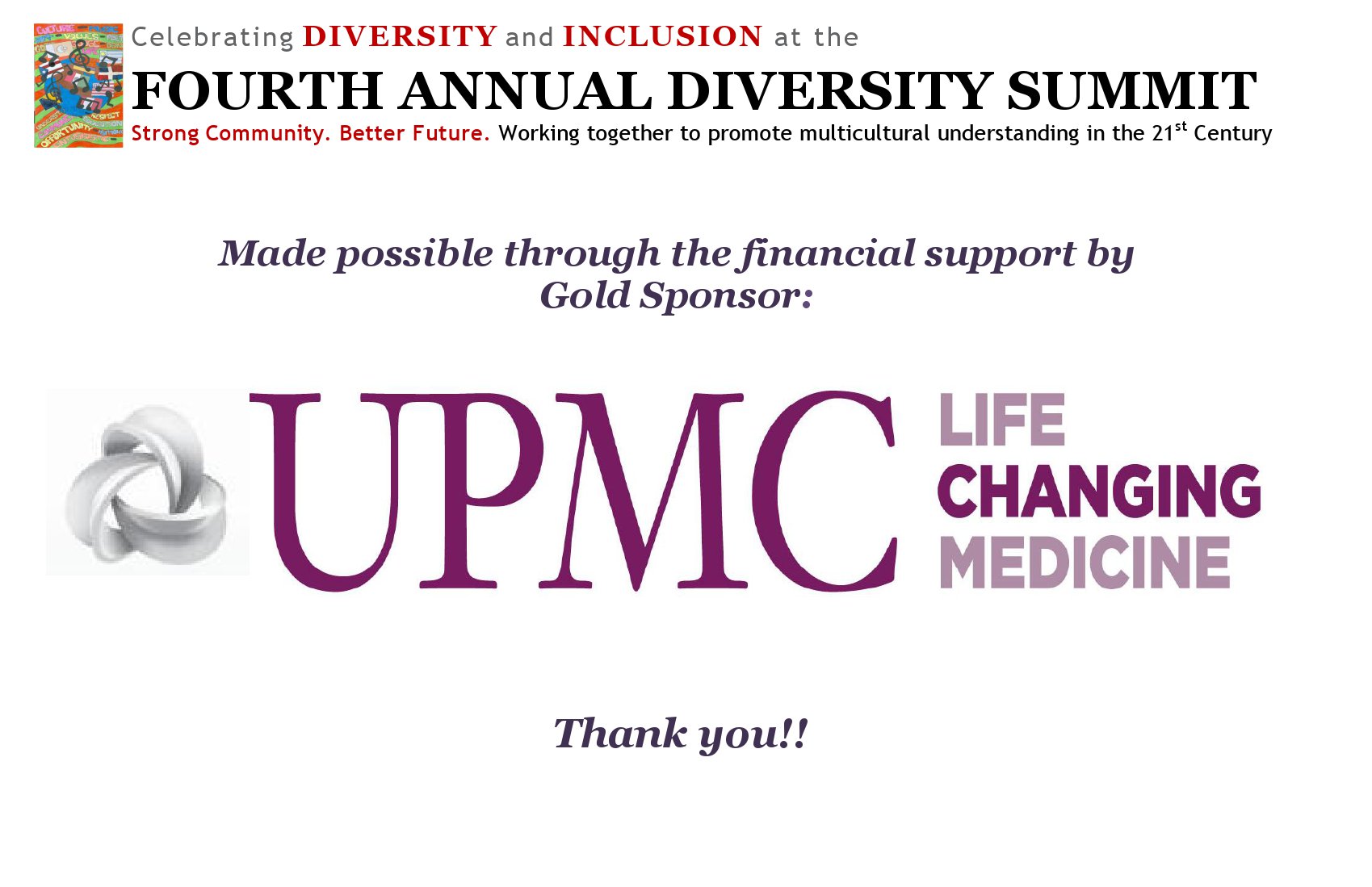 October 9, 2012
7:30 a.m. – 4:30 p.m.    
Location:
South Western High School
South Western School District
200 Bowman Road
Hanover, PA 17331
Strong Community. Better Future.
Working together to promote multicultural understanding in the 21st Century 
Act 48 and HRCI Credits Available
SPECIAL PRESENTATIONS BY: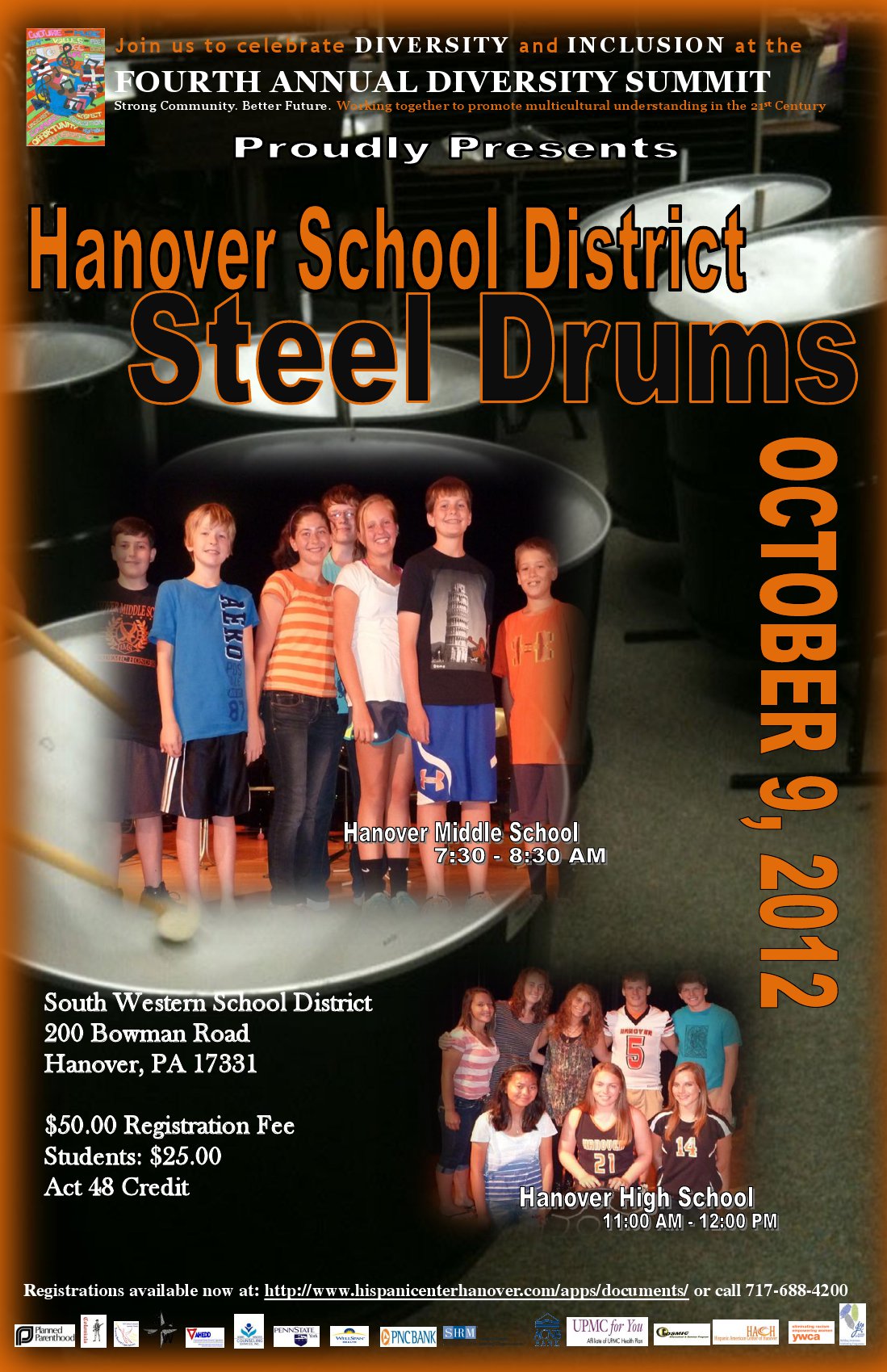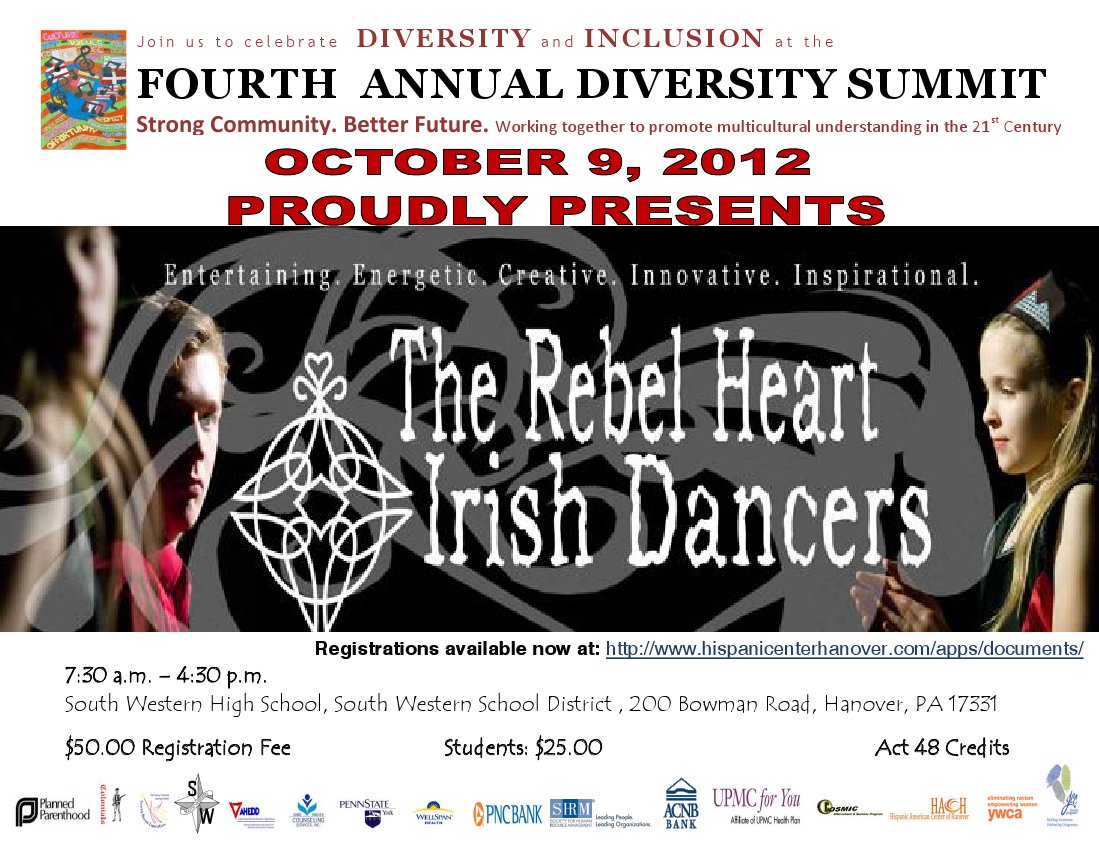 The Diversity Summit provides workshop sessions on issues of diversity and inclusion. The sessions are structured to assist in building a much stronger society in our region and create understanding and awareness that inclusiveness and diversity should be valued in all industries. 
Prominent Keynote Speakers: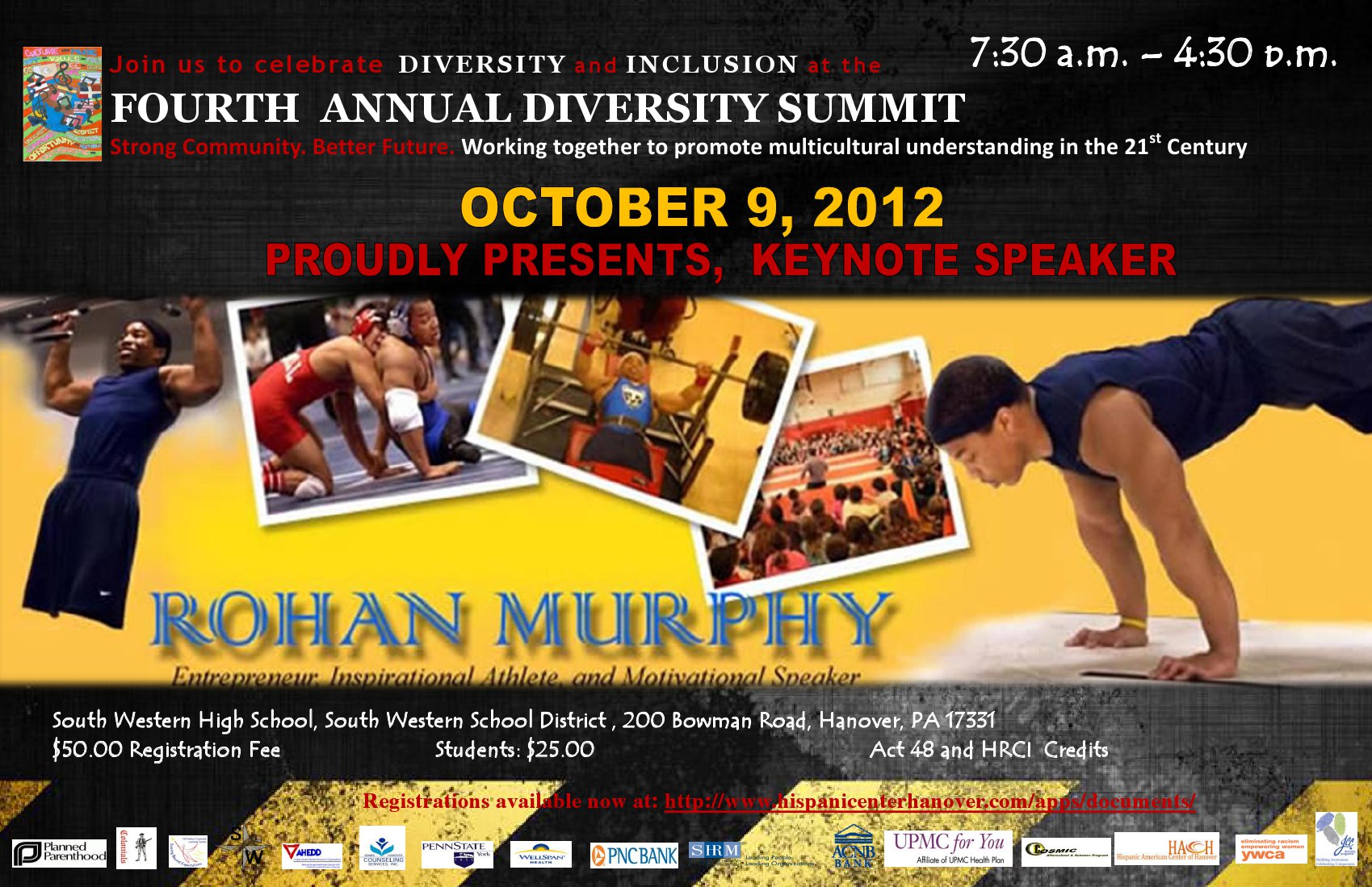 ROHAN MURPHYwho lost his legs at birth, started to wrestle his freshman year of high school. After a successful high school wrestling career he went on to wrestle at Penn State University. In addition to wrestling, Murphy is also an accomplished power lifter, competing international competitions all over the world representing the USA. Murphy has been featured in publications such as ABC news, Sports Illustrated, and many more. He was even featured in his very own Nike commercial to motivate and inspire people to exercise and live a healthy lifestyle. Now Murphy is a professional motivational speaker. He lived his whole life motivating people by his actions, he is now motivating the youth of America by his words. Murphy's life story is a gripping tale of adversity, dedication, and living life with a purpose.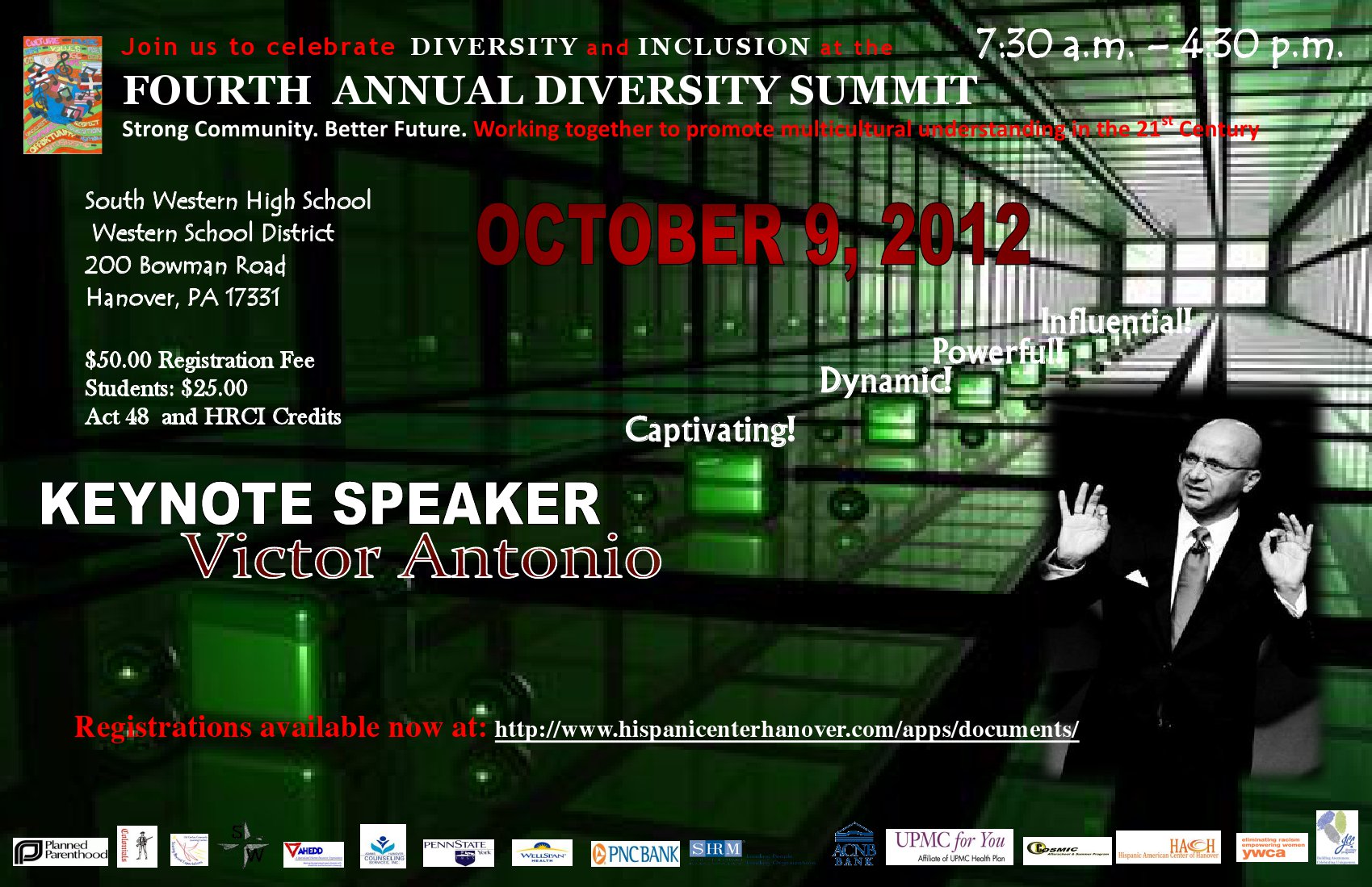 VICTOR ANTONIO author, trainer and speaker, is proof that the American dream of success is alive and well.  A poor upbringing from one of the roughest areas of Chicago didn't stop Victor from earning a B.S. Electrical Engineering, an MBA and building a 20 year career as a top sales executive and becoming CEO of a multimillion dollar high-tech company. Prior to being CEO he was President of Global Sales and Marketing for a $420M company.  He was tasked with building a global sales force, establishing contract agreements, developing financial pricing models and in charge of developing the corporate brand and marketing the company's services for worldwide acceptance. 
 Workshops by Highly Acclaimed Presenters        
BUSINESS WORKSHOPS  
The Role of Culture in Business – B1      Strategic Credits, HRCI 1.5 hours
Facilitator: Dr. Ali Kara, Professor, Penn State York Campus
Learn how cross-cultural proficiency is paramount in today's globalized 

world and how cultural proficiency 
influences the development of products 

and services; effectively communicating and interacting with foreign
 business partners; screening and selecting foreign distributors and 

other partners; negotiating and structuring 
international business ventures; 

interacting with current and potential customers from abroad. 

 
Employment and Inclusion of People with Disabilities - B2     HRCI 1.5 General Hours
Facilitator: Stacy Kyle, Project Director, PA Business Leadership Network and Carolyn Lerew, Area Manager, AHEDD
The presentation will focus on Pennsylvania's Business Leadership Network (BLN). While the PA BLN is geared toward the needs of employers, this session will discuss practical strategies and resources that anyone can use to increase the employment and inclusion of people with disabilities.
Winning Through Influence– B3HRCI 1.5 General Hours
Facilitator: Victor Antonio, Motivational Speaker, Atlanta Georgia
This workshop focuses on understanding the different strategies we can use to influence or persuade others to execute 1) their personal goals, and 2) your company's short and long-term goals. Every day is filled with 'influence moments' where you can move and guide others to follow your lead and make change happen. You'll have fun and learn how easy it is to drive other's decision-making process.
Minority Underrepresentation in the Information Technology Industry – B4HRCI Hours Pending  
Facilitator: Kim Goff, CEO/Web Developer, Goff Website Consultants
This workshop will present the latest statistics of the underrepresentation of minorities in the IT Industry and how the IT workforce suffers from a lack of diversity, the minority groups are also being left out of a very lucrative and grown industry. 
Leading, Learning, Working Styles- B5HRCI 1.5 General Hours
Facilitator: Carolyn Warman, Executive Director, Leadership York
This session will help you recognize your own leading, learning, and working styles as well as others' styles. This knowledge will help -you better understand your colleagues and improve your effectiveness as a leader.
WellSpan's Journey Towards Inclusion–B6 HRCI 1.5 General Hours
 Facilitator: Kimberly Brister, Manager HR, Wellspan Health and Tracey L. Aust, Organizational Learning and Development, WellSpan Health 
The session will discuss WellSpan's journey to developing a diversity strategy. The presentation will include practices of inclusion and diversity and how an organization's adaptation to these can impact individual performance, organizational culture, and community relationships. In addition, the impact diversity training can have on sustained organizational change will be discussed.
Mental Illness in the Workplace– B7 HRCI 1.5 General Hours
Facilitator: Rose Alberghini, Executive Director, NAMI
Learn about NAMI and explore the myths surrounding mental illness; common mental illnesses and their symptoms; stigma, self- disclosure & reasonable accommodations for a mental illness; how to approach and communicate with someone you think is experiencing mental health problems; and community resources that are available.  Information on possible follow up presentations will be given.
COMMUNITY SERVICES WORKSHOPS
Family Violence in Any Language – C1
Facilitator: Anne Acker, Director of Safe Home, YWCA of Hanover  and Rosa Perez-Lupian, Safe Home, YWCA of Hanover
Learn how abused immigrants and refugees experiences are similar to other victims and how all victims of domestic violence share the same fears. Understanding how culture influences individuals, families, and communities is critical to ensuring the ability of domestic violence victims to make choices that result in violence free lives.
 Hot Topics in Immigration Law– C2HRCI 1.5 General Hours           
Facilitator: Mary Weaver, PIRC Board Member, Ashley Grimm, PIRC Managing Attorney and Angela Eveler, PIRC Executive Director  
This session will provide an overview of recent developments in immigration law, including a discussion of (a) immigration enforcement and the 2012 U.S. Supreme Court case of Arizona v. United States, (b) the new "Deferred action" policy announced by the Obama Administration, and (c) other policy changes in the past year.
Ensuring that Your Services are Welcoming to Lesbian Gay Bisexual and Transgender People (LGBT) –C3
Facilitator:Deborah Gable, Director of Education, Planned Parenthood of Central PA    HRCI 1.5 General Hours
Despite more acceptance of lesbian, gay, bisexual, and transgender individuals than even 10 years ago, intolerance continues to be a part of our schools, workplaces and communities.  This workshop will lay the groundwork for you to increase your understanding of the impact of biases on LGBT individuals and improve your skills in providing services to everyone equally, regardless of their sexual orientation or gender identity.
DIVERSITY WORKSHOPS                                              
Smile, it's Monday! – D1 HRCI 1.5 General Hours
Facilitator: Cathy Bollinger, Director of Diversity and Organizational Development, York Jewish Community Center 
People who have fun doing what they're doing, do it better.  People, who have fun, are people who feel valued for the perspectives, experiences and talents they bring to a school, business or organization.  Smile, it's Monday provides creative strategies for improving relationships and stimulating climates where all people feel welcome, respected and connected for who they are.  This session is fun, upbeat, interactive, and guaranteed to make you smile!  J
Living with Purpose – D2  
Facilitator: Mena Badros, Speaker, CoolSpeak, Inc. 
Living with purpose is a simple phrase but identifying the related fundamentals to act on it may not be so easy - until now. Through a series of small activities, participants will explore their purpose. They will learn to identify what's important to them and how to maximize their time & effort towards what's important. They will also learn to identify their niche and explore where life can take them.
Survival of the Fittest– D3
Facilitator: Joey Negron, Speaker, CoolSpeak, Inc.
Many times people find themselves caught up in their busy lives and tend to ignore how much of a toll the "hustle and
bustle" has on their bodies. This workshop covers many strategies in creating healthy habits in your everyday lives.
Being the "fittest" is not just about the foods we consume or running on the tread mill, but how we live our life and how
we feel about ourselves.
 Identifying, Understanding, and Dismantling White Privilege  – D4 HRCI 1.5 General Hours 
Facilitator: Dr. Rosie Bolen, Faculty Liaison Center for Student Diversity, Mount St. Mary's University
This session will explore the historical and ongoing basis of white privilege in our society. Participants will learn to recognize examples of white privilege and understand its impact on people of color and people with white identity. There will also be a discussion on strategies for dismantling white privilege and building an anti-racist community.
 EDUCATION WORKSHOPS
 Inner City Youth  - Path to Higher Education  - E1   
Facilitator: Bill Staples, Speaker, CoolSpeak, Inc.
This workshop will address inner city youth with regards to attendance, participation, discipline, and guiding them on a path to a post high school education.
Help Undocumented Students Pursue Higher Education - E2                                                            
 Facilitator: Mena Badros, Speaker, CoolSpeak, Inc.
Each year, over 65,000 undocumented students graduate from schools across the United States.  But after they graduate, they typically aren't allowed to pursue higher education and/or qualify for financial aid.  In this workshop, you will learn more about the issue at hand, and gain tips and resources that will help undocumented students increase their chances of higher education and financial aid.
Consequences - Pharmaceutical Drug Abuse –E3 
Facilitator: Craig S. LeCadre, Senior Supervisory Special Agent Education and Outreach Program, 
Office of Attorney General Commonwealth of Pennsylvania. 
This workshop will illustrate the current trends of pharmaceutical 
drug abuse in Pennsylvania and the United States. 
Summit fees includes:
three workshop sessions, two keynote speakers' presentations, Act 48 Credits, HRCI Credits,  continental breakfast, lunch and one dance performance.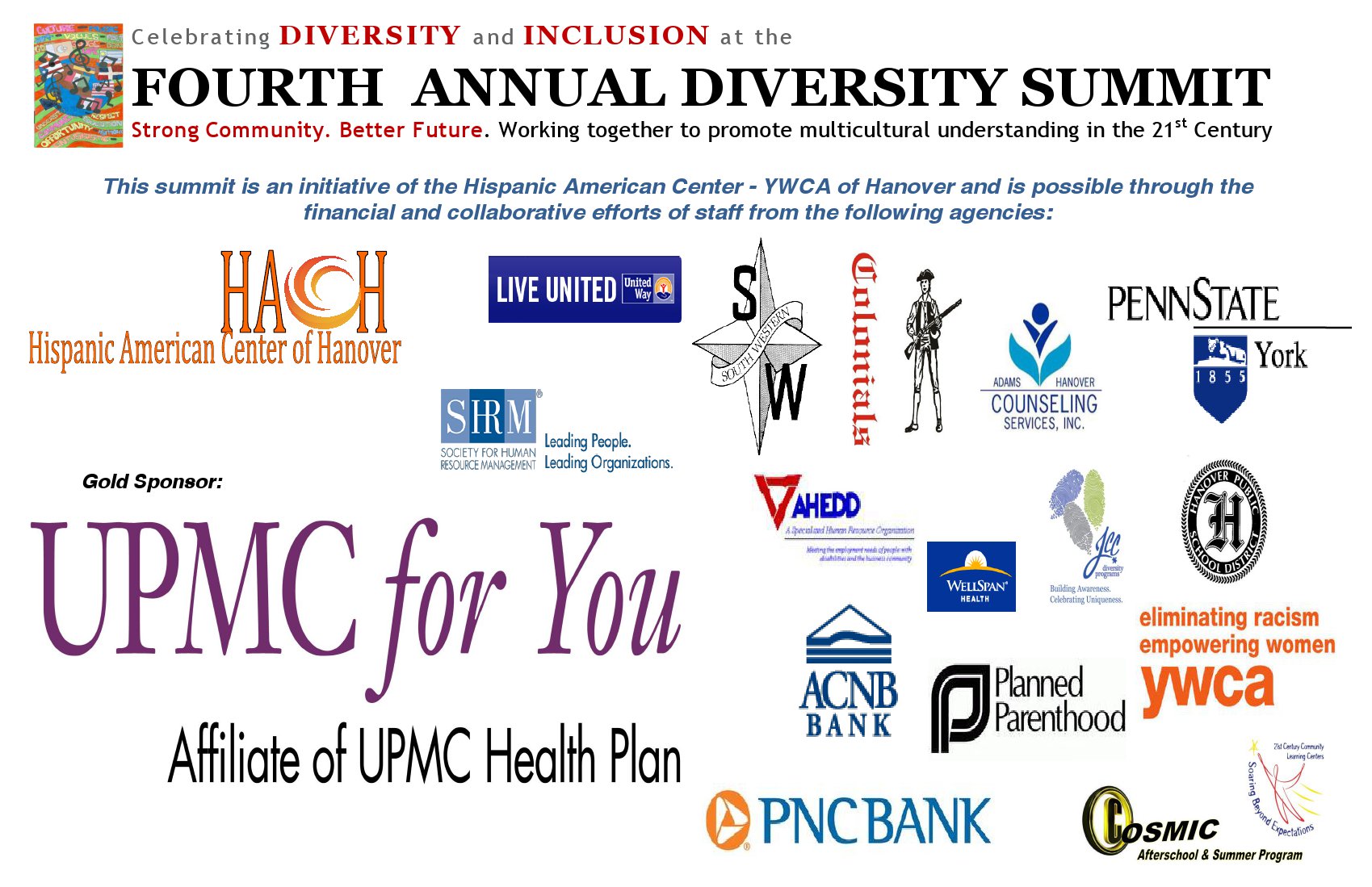 Limited Seats, Register Today!
The Fourth Annual Diversity Summit is an initiative of the  
Hispanic American Center of Hanover
Program of the YWCA of Hanover
When & Where


South Western High School
South Western School District
200 Bowman Rd.


Hanover

,

PA

17331


Tuesday, October 9, 2012 from 7:30 AM to 4:30 PM (PDT)
Add to my calendar
Organizer
HISPANIC AMERICAN CENTER YWCA OF HANOVER
Inclusion is the key to understanding one another where a door is open to create success for not just one, but for all. The Center's community events are intentionally coordinated to bring many generations of many backgrounds and beliefs and where our spirits are lifted by listening differences, seeing differences and gaining knowledge of appreciation and understanding.
Check out our Fourth Annual Diversity Summit workshops: